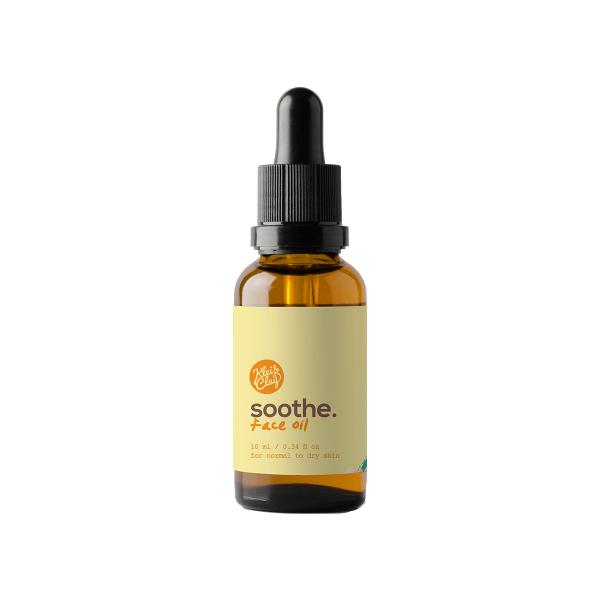 Soothe. Face Oil (RADIANT + GLOW + POST INFLAMMATORY HYPERPIGMENTATION)
One of the richest face oil featuring a nutrient of natural oils to hydrate, clarify, reduce dark spot and give a dewy look face. This fascinating oil also has an aromatherapy effect that giving a relaxation mind. Formulated for dry, sensitive and combination skin or any type skin in need of hydration skin.
When to use Facial Oils? The best use is at night at the last step of your skincare routine to make a barrier and lock the moisture naturally. If you use at day, please keep in mind that use it before sunblock. Because sunblock always at the last step of your day skincare before applying makeup primer.
DIRECTIONS:
Apply 2–4 drops to your skin as the last step, after you previously applied other skin care. Massage in and allow to absorb inside on your skin. For the best result, use it at night and don't forget to apply sunscreen in the next morning. Store at room temperature and out of direct sunlight.
Due to natural ingredients, color and scent of oil may vary.
10 ml | 0.34 FL. OZ.
SHELF LIFE: 1 year
KEY INGREDIENTS
Rosehip Seed Oil (certified organic): a holy grail of oil that rich of Linoleic Acid, complexion-brightening Vitamin C, and Vitamin A (retinoid acid) which is the best to regenerate the skin and reduce the appearance of acne scarring, dark spot and Post Inflammatory Hyperpigmentation.
Sweet Almond Oil: is an extremely powerful antioxidant oil that contains Vitamin E, Vitamin A, Mono-saturated fatty acids, protein, potassium, and zinc. To fight free radicals from UV radiation damage, dark spot and prevent blackheads and acne.
Avocado Oil: The yummiest fruit oil that can increase collagen metabolism in the skin. Even the oil may feel a little thick consistency, the oil is perfect to moisturize a dry skin and may help to delays the aging, lightens dark circles.
Geranium Oil: pure extracted from Geranium plant. This essential oil is helping for hormone balance, stress relief, wrinkle reducer, and skin enhancer. Another amazing benefit from Geranium is it helps to keep pores from getting clogged which reduces acne outbreaks.
FULL INGREDIENTS:
*Rosa Mosqueta (Rosehip Seed) Oil, Sweet Almond Oil, Persea Americana (Avocado) Oil, Lavandula Angustifolia Oil, Pelargonium Graveolens (Geranium) Oil. *certified organic
* All of the oils are safe for pregnancy and breast-feeding mother. As always, use caution if you have allergies or a family history of allergies. If you think you may be allergic to an essential oil, do a patch test first or go to see the doctor.
Soothe Face Oil 10 ml