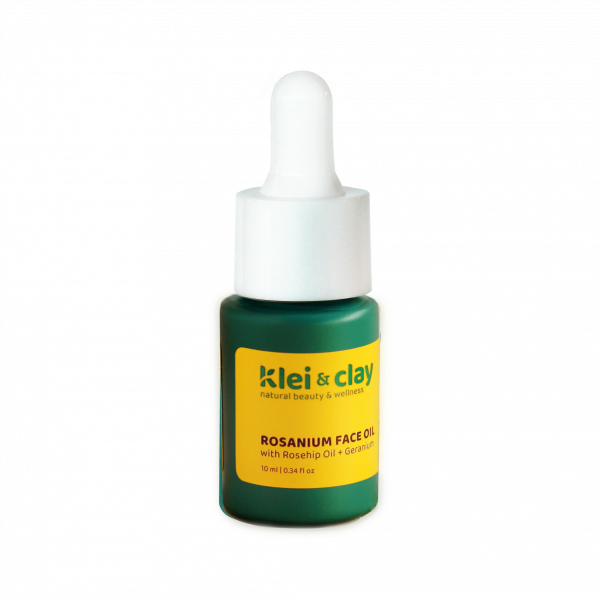 (RADIANT + GLOW + POST INFLAMMATORY HYPERPIGMENTATION)
Mengandung minyak tumbuhan alami yang kaya akan antioksidan. Bermanfaat untuk anti penuaan kulit, membantu untuk regenerasi kulit, dan juga anti-inflamasi akibat peradangan bakteri jerawat, radiasi matahari maupun polusi. Aroma bunga mawar dan geranium di dalam Rosanium face oil akan memberikan sensasi yang menenangkan. Cocok untuk semua jenis tipe kulit.
BAHAN UTAMA -- Rosehip Seed Oil merupakan minyak holy grail yang kaya akan antioksidan, Linoleic Acid, Vitamin C, Vitamin A yang dapat membantu untuk meregenerasikan kulit dan mengurangi bekas jerawat dan PIH (Post Inflammatory Hyperpigmentation). Sweet Almond Oil bermanfaat untuk menangkal radikal bebas. Avocado oil menutrisi untuk kulit kerang dan membantu untuk memperlambat penuaan dini. Geranium oil merupakan minyak esensial yang membantu mencerahkan wajah.
------
One of the richest face oil featuring a nutrient of natural oils to hydrate, clarify, reduce dark spots and give a dewy look face. This fascinating oil also has an aromatherapy effect that giving a relaxation mind. Formulated for dry, sensitive, and combination skin or any type of skin in need of hydration skin.

KEY INGREDIENTS -- Rosehip Seed Oil (certified organic): a holy grail of oil that rich in Linoleic Acid, complexion-brightening Vitamin C, and Vitamin A (retinoic acid) which is the best to regenerate the skin and reduce the appearance of acne scarring, dark spot and Post Inflammatory Hyperpigmentation.

Sweet Almond Oil: is an extremely powerful antioxidant oil that contains Vitamin E, Vitamin A, Mono-saturated fatty acids, protein, potassium, and zinc. To fight free radicals from UV radiation damage, dark spot, and prevent blackheads and acne.

Avocado Oil: The yummiest fruit oil that can increase collagen metabolism in the skin. Even the oil may feel a little thick consistency, the oil is perfect to moisturize dry skin and may help to delays aging, lightens dark circles.

Geranium Oil: pure extracted from the Geranium plant. This essential oil is helping for hormone balance, stress relief, wrinkle reducer, and skin enhancer. Another amazing benefit from Geranium is it helps to keep pores from getting clogged which reduces acne outbreaks.

Rosanium Face Oil - NA18200107998
EXP 07.2023
Due to natural ingredients, the color and scent of oil may vary.
FULL INGREDIENTS
Ingredients
Rosa Mosqueta (Rosehip Seed) Oil, Sweet Almond Oil, Persea Americana (Avocado) Oil, Lavandula Angustifolia Oil, Pelargonium Graveolens (Geranium) Oil, Tocopherol (Vit.E), Linalool*. *occurs naturally from essential oils.
Shelf Life
Shelf Life: 24 Months | POD: 12 Months
How To Use
Apply 2–4 drops to your hand, warming up. Tap tap to your skin and massage in and allow it to absorb inside on your skin. For the best result, use it at night at the last step of your skincare routine, and don't forget to apply sunscreen in the next morning. Store at room temperature and out of direct sunlight.
Rosanium Face Oil 10 ml